The Covid pandemic has caused global supply issues and manufacturing shortfalls. Taiwan is leading the recovery process
There continues to be a lot of news reporting about how Covid-19 has disrupted global manufacturing. The Harvard Business Review predicted major impacts on supply chains a year ago, and Bloomberg is now reporting that China's Electricity Crunch Is World's Latest Supply-Chain Threat.
A Global Problem?
Not everyone has been affected equally
This looks like a global problem. In the UK, The Guardian reports on six big economies being hit by the current issues: China, the USA, Russia, Germany, Australia and the UK. Taiwan is not on the list… This is because Taiwan responded rapidly to the pandemic, before almost every other country in the world. Long before major economic powers moved into action to control the spread of the virus, Taiwan was taking full measures to protect the population and economy.
Taiwan is Managing Well
Taiwan manufacturing businesses are working hard on recovery
The result is that Taiwan is open for business and working hard to offer a full range of products and services while other countries have only just started to pick themselves up off the economic floor. Taiwan is experiencing growth of 5.9% as one of the fastest growing economies in post-Covid pandemic recovery.
As Taiwan manufactures strategically important semiconductors and electronics there has been a focus on this in the media. What is not so well known is that Taiwan is also the home of manufacturers of very high quality OEM branded machine tools, parts and accessories that you find in the global marketplace.
Security of Supply & Peace of Mind
Do You Know When Your Next Order Will Arrive?
Many manufacturing companies are finding it difficult to get their hands on a wide range of tools and equipment due to supply chain interruptions, and, especially in the case of China, due to energy impacts some manufacturing is no longer reliable.
This is an issue for many Taiwanese businesses that depend on Chinese manufacturing, who are hit by the problems China is experiencing in manufacturing and supply of products and components. Other businesses in Taiwan are less dependent and are able to meet demands for orders.
If you want high quality, reliable tools and equipment, you need to look to Taiwan to get that feeling of security and peace in these disturbed times. There are still many supply chain issues to be overcome, but Taiwan manufacturing is leading the way in finding solutions to these problems.
Diversity of Supply Reduces Risk
Don't leave it too late to investigate alternative potential suppliers
One of the recommendations made by the Harvard Business Review to reduce supply chain impacts in a pandemic was to diversify supply chains. Many manufacturers in the US, Japan, Australia and Europe rely on single Chinese suppliers for parts and finished equipment. This is often good when all is well and supply is reliable, but that's not where we are today, and many companies are facing uncertainty of supply.
Even if you are not interested in switching suppliers or don't feel ready, adding a Taiwanese supplier to your supply chain portfolio is sound business sense to reduce risk and help you keep your business running even if your regular supplier lets you down.
Taiwanese Machine Tool Manufacturing
Leaders in quality OEM metal working machinery
Rong Fu is a Taiwanese manufacturer of metal working bandsaws, mill drill machines and drill presses, which we supply as OEM equipment to global brands. Unlike manufacturers in mainland China, we are not affected by energy shortages. Because we are a vertically integrated company and manufacture all our metal working machines in-house we do not rely on mainland China for the supply of parts and services to the extent of many of our competitors.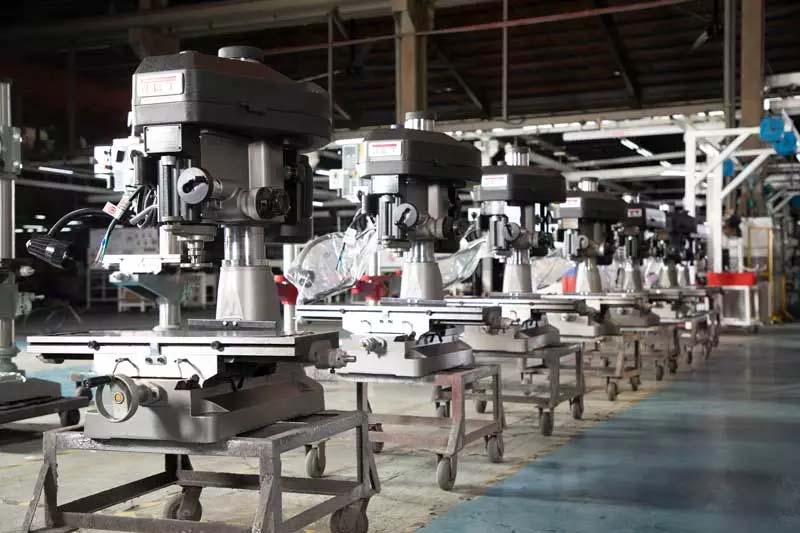 If there is a company in the world that manufactures metal working bandsaws and mill drill machines that can still offer high quality products and support in these difficult times it would be us. We have the unique advantages of being Taiwanese based, owned and operated, making us less affected by economies outside Taiwan that have been hit by serious pandemic-related disruptions.
Just think about it. If you're in the metal working business there's no harm in contacting us to find out what we can do for you to reduce your risks and give you peace of mind.