We practice strict band saw quality control procedures during manufacture and bandsaw quality testing, and maintain ISO9001 registration for our processes. Our metal cutting bandsaws meet or exceed quality requirements of global markets, including European CE certification.
Quality and Reliability
In House Manufacturing

Quality Control & Testing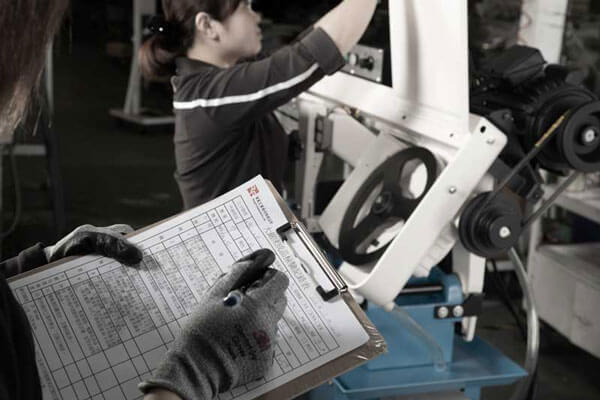 In House Manufacturing
The high quality and reliability of our bandsaws comes from 40 years of experience in matching products to the needs of all types of customer. Our attention to detail ensures our machines operate efficiently and safely.
Rong Fu is a vertically integrated company, and does not outsource design, manufacture or quality control. This has made us an OEM bandsaw manufacturer of choice for our many international customers.
Quality Control & Testing
All bandsaws are tested and calibrated by our experienced technicians for precision and safety before shipping. Test cuts made from stock materials matching intended use are measured to ensure they are within design and specification tolerance. Test documentation and samples are packaged with the bandsaw when it is dispatched.